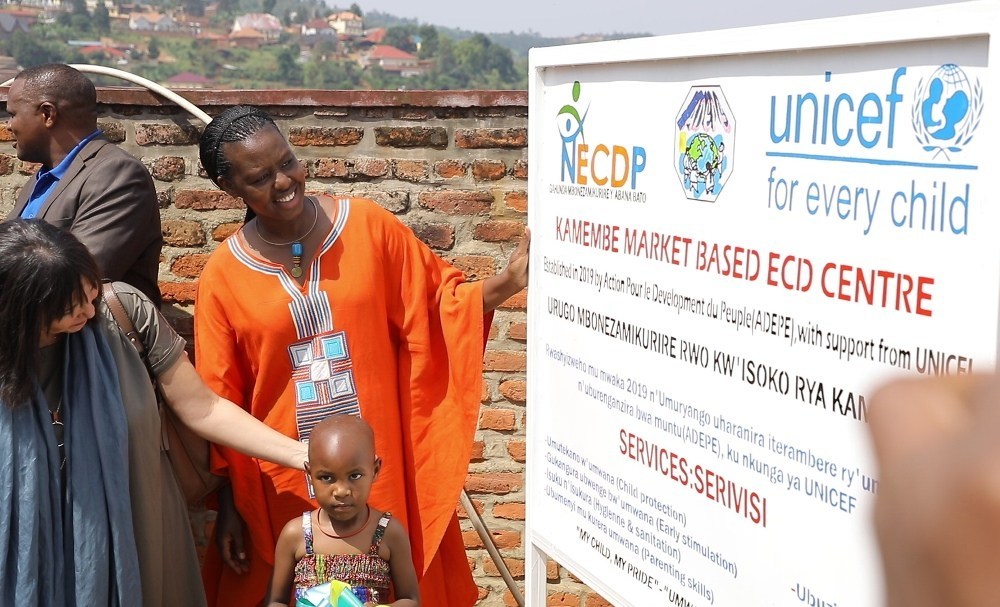 UNICEF, Government of Rwanda and ADEPE inaugurate first early childhood development centre based in local market
RUSIZI, Rwanda – UNICEF and local partner Action Pour le Development du Peuple (ADEPE) have constructed a new early childhood development (ECD) centre in Rusizi District, located adjacent to Kamembe Market. This centre, accommodating 120 children up to age six, will be inaugurated today by the Government of Rwanda, UNICEF and ADEPE.
Self-employed and low-income parents struggle to provide appropriate child care for their children and often cannot afford a caregiver at home. When parents bring their children to the markets where they work, they are unable to provide their children the attention, safety and care they need.
"This is Rwanda's first ECD centre based inside of a market. Centres like this one support working parents with a safe space for their children to grow and thrive. Four trained caregivers at the centre provide services in health, nutrition, early stimulation and learning, protection, and hygiene and sanitation for 120 children," said Gregoire Rucamumihipo, ADEPE's National Coordinator.
This new Kamembe facility is one of six planned centres to be established in five district markets across Rwanda by June 2020. In addition to children, this centre reaches 75 pregnant and breastfeeding mothers through the parenting programme, and about 250 families with messages on positive behaviour change around responsive child care and positive parenting.
"Children attending this centre will learn and play in a safe environment, and will be fed daily to help improve nutrition. By attending educational sessions at this centre, parents will better understand the importance of caring for and helping educate their children from an early age." said Dr. Anita Asiimwe, Coordinator of the National Early Childhood Development Programme (NECDP).
"These children are now well taken care of, they receive proper nutrition through a balanced diet and are growing well," said Emmanuel Nsigaye, the Vice Mayor of Social Affairs in Rusizi District.
This centre can also help increase income for families, as parents will be able to work more productively knowing their children are safe and well-cared for.
"The inaugation of this centre comes at a strategic time, when the world prepares to celebrate the 30th anniversary of the Convention on the Rights of the Child in November," said Nathalie Hamoudi, acting UNICEF Representative in Rwanda. "We are happy to see such innovative solutions to support ECD and advocate for children's rights. We hope that other communities will be inspired by this example."
The inauguration of Kamembe Market's new ECD centre will precede a poem and testimonies from parents with children enrolled at the centre. The centre will be showcased as a model for replication by other community markets in other Districts of Rwanda.